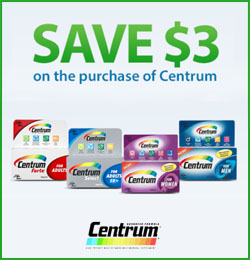 If you are planning on having a child or just want to get healthier, check out this great offer from Centrum!
Centrum for Women is a great multivitamin specially designed for women's bodies. It has nutrients to support your body's energy needs, metabolism, bone and breast health as well as healthy skin, hair and nails.
Now, it's just a matter of remembering to take them!
This Coupon Expires December 31, 2013.
Cheers,
Alicia