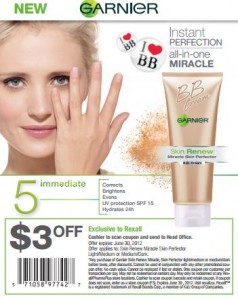 If you haven't tried out Garnier's Skin Renew Miracle Perfector you are missing out on 5 immediate effects! It corrects, brightens, evens, have UV protection and hydrates 24 hours a day! This is great because not only do I love seeing results, but seeing them fast is great!
Get your coupon to save $3 on their latest B.B. cream at any Rexall location. They call it 'instant perfection and an all-in-one-miracle' but don't take their word for it, try it out yourself!
This coupon expires on June 30th.
Cheers,
Alicia