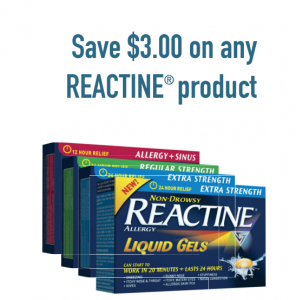 Do you constantly sneeze whenever you are in a 5 metre radius of a cat? Or maybe the changing seasons makes your eyes itchy?
Be allergy free and save $3 on any Reactine product. This coupon is valid for their Liquid Gels, Extra and Regular Strength and Allergy and Sinus products!
This coupon expires on August 31st.
Cheers,
Alicia