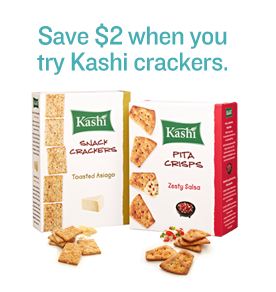 Crackers make the perfect snack. You can put cheese or peanut butter on them or cover them in a variety of spreads, dips and sauces! Even eating them plain can be very delicious. My kids love when i make them crackers and cheese.
Kashi is giving you a chance to try their new crackers without paying full price! Request a coupon that will save you $2.00 off a box of new Kashi crackers!
I think there are some Pita Crisps with lots of different dips calling my name!
Cheers,
Alicia