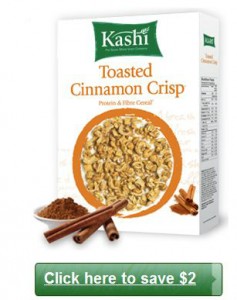 I have been trying to eat healthier and high sugar cereals were one of the first things to go!
I tried Kashi cereal recently and really liked it, so when I found this coupon to save $2 off Toasted Cinnamon Crisp, I knew it would come in handy!
High in protein and fibre, Kashi cereal is a healthy start to the day!
And the savings definitely helps! 😉
Cheers,
Alicia
Request Your Kashi Cereal Coupon