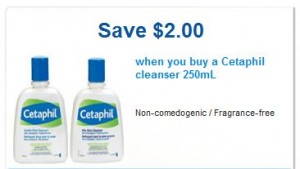 I find that my skin dries out in the winter if I don't use a really good cleanser to keep it hydrated. If you have sensitive skin or like to avoid the perfume-smelling cleansers, I suggest you try Cetaphil.
Cetaphil has a great skin cleanser that is both gentle on the skin and is a fragrance-free.
Right now, you can get a $2.00 off coupon from Websaver for when you buy a Cetaphil 250mL cleanser.
Now those are savings I can count on!
Cheers,
Alicia
Request Your Cetaphil Cleanser Coupon