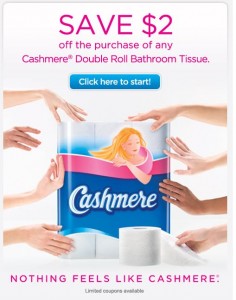 Nothing quite feels like Cashmere! It's the only bathroom tissue I like to use because the softness is unmatched by any other product, in my opinion.
We go through so much toilet paper in my house, that a coupon is much welcomed!
Right now you can get a coupon to save $2.00 off the purchase of any Cashmere Double Roll Bathroom Tissue!
Just "Like" Cashmere on Facebook and request your coupon from Websaver.
Note: Websaver says its only available in Eastern Canada.
Cheers,
Alicia