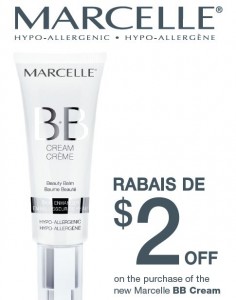 I am always looking for new products to help my skin and make my make-up look great!
Marcelle's BB Cream does everything all in one. You can use it as a tinted moisturizer, unify your complexion and reduce the appearance of blemishes or apply as a make-up base under your foundation for total coverage.
Also, right now, if you "Like" Marcelle on Facebook you can request to have a coupon sent to your email which will save you $2.00 on your next purchase of BB Cream!
I have never tried this before but I certainly want to now!
This Coupon Expires July 31.
Cheers,
Alicia
Request Your Marcelle BB Cream Coupon