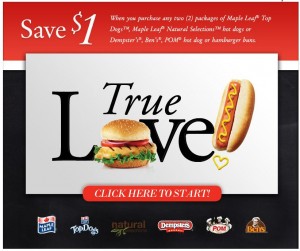 Nothing goes together better than hotdogs or hamburgers and buns!
Request a coupon to save $1.00 off when your purchase any two packages of Maple Leaf Top Dogs, Maple Leaf Natural Selections hot dogs or Dempster's, Ben's, POM hot dog or hambuger buns!
Just "Like" Maple Leaf Foods on Facebook to request your coupon! Once you go through Facebook the coupon will be mailed to you through Websaver.
Sounds like we are ready for a backyard barbecue!
Cheers,
Alicia