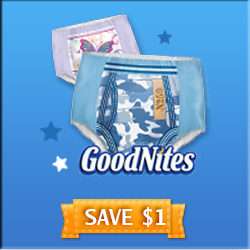 Have you entered into potty training yet? I'm not quite there with my kids, but from what I have gathered from parents that I know, is that it can't be a very challenging time in yours and their child's life.
That's why great brands like GoodNites will definitely come in handy for anyone who is potty training their children.
Right now, print out this coupon to save $1 off GoodNites Underwear. This is a great pant for kids ages 4 and up to wear before they go to bed to avoid making a mess in their sleep.
I will keep this in mind for when my time comes. Good Luck Parents.
Cheers,
Alicia