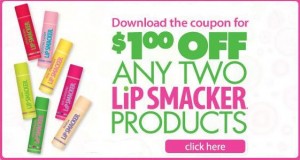 I haven't used Lip Smackers in years but it looks like their flavour selection has increased exponentially since I last bought a pack!
Here is your chance to give some of the old classics like Watermelon Lip Smackers or new favourites like Lip Rush Cool Cotton Candy a try and save some money too!
Print this coupon and save $1.00 when you purchase ANY two Lip Smackers Products!
I think I am going to try the Dr. Pepper Liquid Lip Smacker and Cherry Starburst flavoured Lip Smackers! Yumm 😉
This Coupon Expires on December 31.
Cheers,
Alicia
Print Your Lip Smackers Coupon