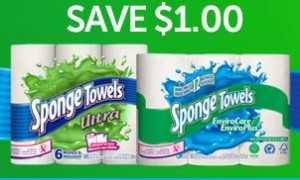 I find you can never have enough rolls of paper towel when you have little ones around. So I stock up when I can find it for a good price.
Right now you can request a coupon to save $1.00 off Sponge Towels Ultra 6 pack or EnviroCare 4 or 6 pack!
You will be able to access the the coupon link in the scrolling banner at the bottom of the page.
Once you see it, click on it and it will take you to Websaver to fulfill your request!
Cheers,
Alicia