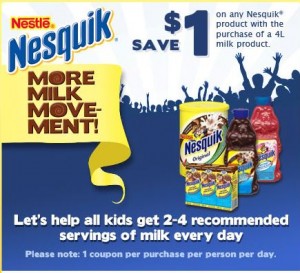 Who says chocolate milk is just for the kids? Nesquik is a must have for me to have in my cupboard at home. I love using the syrup on top of ice cream and in milk!
So when I found a coupon for it, I was like a kid in a candy store! (That stuff is expensive!)
Just "Like" Nesquik Canada on Facebook to get your printable coupon to save $1.00 off ANY Nesquik product with the purchase of a 4L milk product.
I think the kids will be happy about that too!
Cheers,
Alicia