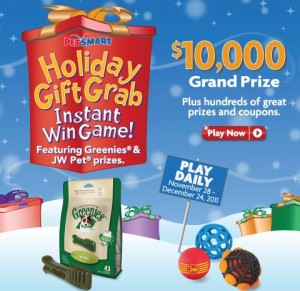 Do you have a cat or dog that you would like to win a prize for?
Enter PetSmart Holiday Gift Grab Contest on Facebook for a chance to win an Instant Prize and have a chance at the Grand Prize of $10,000!
You can play daily to increase your chances of winning!
I actually found the game really fun and simple. Just pick the box that you think has the prize in it. It's a 1 in 3 chance. I didn't win this time, maybe tomorrow. 😉
This Contest Ends on December 24.
Cheers,
Alicia