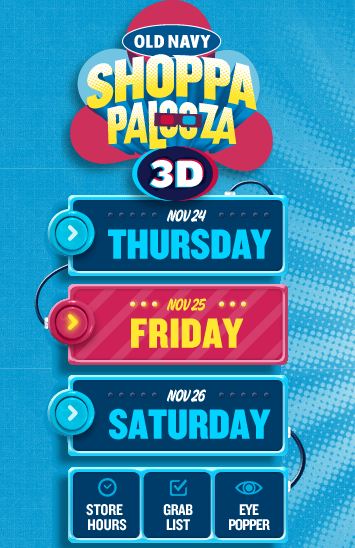 Whether you need a new winter jacket, a pair of leggings or a sweater Old Navy is the place to be Thursday, Friday and Saturday!
They have different deals going on each day.
Thursday Thriller: Entire Store on Sale
Friday Funtacular: Print a coupon to save $10 off any $50 in-store purchase (Valid Friday Only)
Saturday Stylefest: Get a FREE Kodak Easyshare Sport Waterproof Digital Camera bundle with $40 purchase. There are very limited supplies so much sure you go in early!
Old Navy has some great stuff so I might be able to knock a few people off my Christmas list and pick something up for myself while I'm at it. 😉
Cheers,
Alicia
Attend Shoppa Palooza at Old Navy