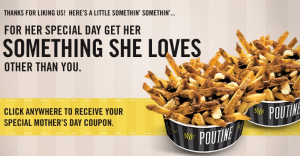 It's nice when companies show a little appreciation for moms by giving out great coupons around Mother's Day!
Print a coupon to get a poutine for only $2.00 when you buy a regular one at New York Fries!
Just "Like" New York Fries on Facebook to get your coupon!
I'm ready for lunch, who wants to go with me?
Cheers,
Alicia