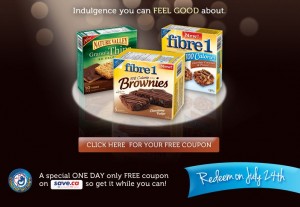 One of the first things I learned about being a mom was that having snacks in your purse or diaper bag was a great idea, because you really never know when you are your little one will get hungry. This is the perfect free coupon for us!
Request a coupon to redeem on July 24 for a free box of Nature Valley Brownies or Granola Thins.
The fact that they are individually wrapped makes it easy to carry around when we are out for a walk.
This coupon is to be redeemed on July 24 Only.
Cheers,
Alicia