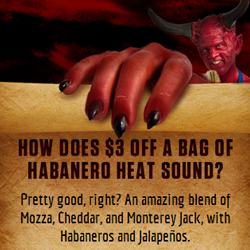 The holidays are great for potlucks and entertaining. Add a kick to your next nacho dip or cheese ball with new Kraft Habanero Heat Shredded Cheese.
Right now you can get a coupon to save $3 off a package.
If you can find Kraft shredded cheese on sale, you will be able to score it for only a couple of dollars. I will definitely be checking my flyers once I get this coupon. Every little bit helps when it comes to the family grocery bill!
Cheers,
Alicia