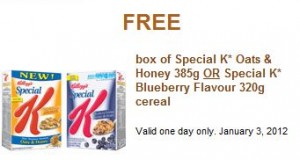 They always say that breakfast is the most important meal of the day! That is why I always make sure that I have a good healthy breakfast to get my day going.
What better way to start off your morning than with a delicious bowl of Special K.
When you head to the Special K website and click on the red 'Save' button (on the bottom right side of the page), you will get access to four great coupons including one for a FREE box of Special K Oats & Honey or Special K Blueberry Flavour redeemable on January 3!
Cheers,
Alicia
Get Your Kellogg's Coupon Here