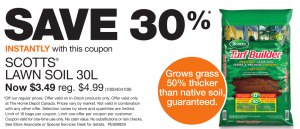 With the warm summer weather creeping up on us, it's time to get out in the yard and start working on that lawn!
All that snow can be really hard on the grass and if yours needs a little jump start then you will be happy to know that Scotts Turf Builder grows grass 50% thicker than native soil.
There are a couple patches in my front lawn that could use a little help from some enriched lawn soil. It's a perfect project to do with the kid with this nice weather we are expecting!
This offer ends on May 9th.
Cheers,
Alicia
Get Your Scott's Lawn Soil Coupon Here