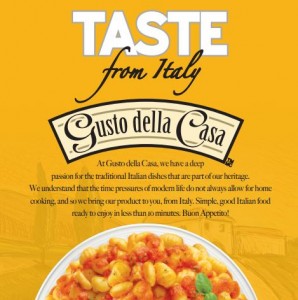 Gusto della Casa knows that our busy lives don't always allow for the home cooking we want. They are bringing their product to you, straight from Italy. What's even better is that it is ready to enjoy in less than 10 minutes!
Get your coupon to save $2 on your purchase on any Gusto della Casa flavour. I think I'm going to pick up the Risotto ai Funghi. I love risotto and mushrooms and it would be so nice to munch on on those nights where I'm out and about!
Buon Appetito!
Coupon Expires on December 31.
Cheers,
Alicia