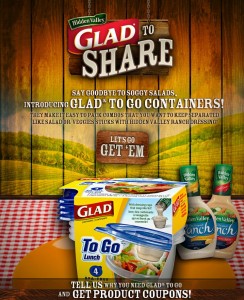 When the weather gets nice, I like to pack a lunch and go to the park with baby or go for a day drive to enjoy the sunshine. The new Glad To Go Containers looks perfect for my veggies and dip snack or for a salad for lunch!
The dressing cup snaps onto the lid inside the salad, so you still only have one container to remember and you don't have a soggy salad or messy vegetables.
Right now print two coupons from Facebook to save you up to $3.00!
Get a coupon to save $2.00 off the Glad To Go Containers and $1.00 off Hidden Valley Ranch Dressing. Just add salad or veggies and you are set!
I can't believe it took them so long to get these on the shelves! I can't wait to go pick some up!
These Coupons Expire on August 31.
Cheers,
Alicia