SORRY! This Offer Has Expired!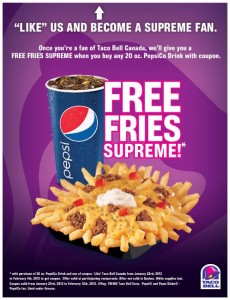 So I just came back from a trip down in the States and one of the best things I ate when I was down there was Chili's Chili Cheese Fries. I had them twice. It's a good thing I don't live anywhere near a Chili's or I would be constantly ruining my diet!
Well, I present to you the next best thing if you have a craving for some American unhealthy goodness. Taco Bell's Fries Supreme!
"Like" Taco Bell Canada on Facebook and get a coupon for a FREE Fries Supreme when you purchase a 20oz Pepsi.
Since it's free I think I can make another exception in my diet. 😉
This Coupon Expires on February 5.
Cheers,
Alicia
Get Your Free Fries Supreme Coupon