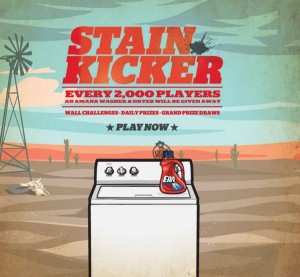 Sometimes I think my little one does think he is a cowboy from the Wild West with the amount of dirt he brings in with him.
Take your turn booting dirty laundry into the washer and you could an instant prize of free coupons and have a chance at the grand prize!
There are up to 30 grand prizes of a washer dryer combo to be won! You will get a ballot every time you play and after every 2,000 players one grand prize will be drawn!
For the instant win game, there are 3,000 first prizes of a free 50 oz. package of ERA detergent, 5,000 second prizes of a $2.00 off coupon and 15,000 third prizes of a $1.00 off coupon!
Now that is how you get tough on your laundry!
This Contest Closes on June 30.
Cheers,
Alicia