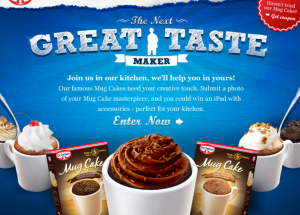 Do you think you are a master chef? Dr.Oetker needs some help with their mug cakes. If you can add a creative touch to the traditional sweet treat, you could win an iPad with accessories.
If you feel you need some brain food to help you think of those most creative mug cake, you can grab a buy one get one free coupon for mug cakes on the Dr.Oetker's Facebook page (just look at the top right corner).
I have a couple of ideas up my sleeve for my mug cake recipe and the coupon will come in handy to help to practice my creation!
This contest closes on June 8th.
Cheers,
Alicia
Share Your Mug Cake Secret Here