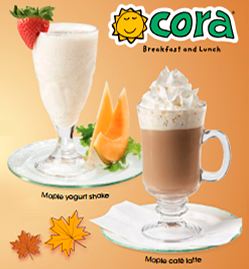 Being Canadian naturally means that when you put that sweet maple taste in something, it makes it ten times better.
Cora's delicious maple drinks are no exception and if you haven't tried the maple yogurt shake or maple cafe lattee, you are definitely missing out.
Grab your coupon to here to get a free maple beverage with a $7 purchase at Cora's!
This Coupon Expires on May 5.
Cheers,
Alicia
Enjoy a Maple Beverage on the House