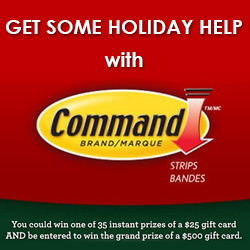 Have you decorated your home for the holidays yet? Instead of hammering nails into your walls or ripping off paint with tape try Command Hooks and effortlessly remove your decorations at the end of the season.
Right now you can enter their Holiday Contest on Facebook fro a chance to win a $25 gift card instantly and be entered into the grand prize draw for a $500 gift card!
Also, after you enter you will get a printable coupon to save 50 cents on the purchase of a Command product.
Now that just made decorating for the holidays a lot easier!
This Contest Closes on December 15.
Cheers,
Alicia