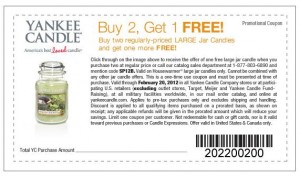 I bought my first Yankee Candle last Boxing Day and I have to say I was impressed with the selection and the quality!
Print this coupon and get 1 large jar candle for FREE when you buy 2 of the same.
Just visit one of their new Canadian locations or if you live close to the boarder this is good for a shopping trip in the States. Otherwise you can call 1-877-803-6890 and quote code SP12B to get the promotion!
Now the hardest part will be to decide which scent to choose!
This Coupon Expires on February 20.
Cheers,
Alicia
Print Your Yankee Candle Coupon