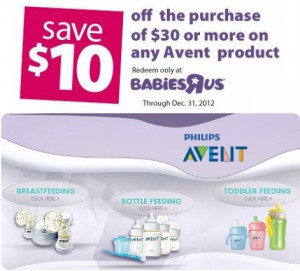 I was surprised after my first one, how quickly they go from breastfeeding to eating solid food. I was also surprise at how much I spent on the supplies to feed my baby. Breastpumps, plates, bottles, bowls, sippy cups, that stuff isn't cheap!
So I was happy to see this great coupon for Babies "R" Us on their Facebook page!
Save $10 when you spend $30 or more on Avent Products at Babies "R" Us.
That will come in handy once my youngest get a little bit older!
This Coupon Expires on December 31.
Cheers,
Alicia