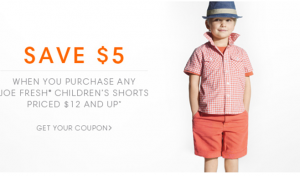 Get your kids summer ready with Joe Fresh with these seriously great savings!
When you spend $12 and up on any Joe Fresh Children's shorts you will be able to save $5! I really like the Joe Fresh clothing line because they are trendy without the steep bill that usually comes along with it.
This is the kind of deal that I pass along to all my friends who also have kids!
This offer ends on July 12th.
Cheers,
Alicia