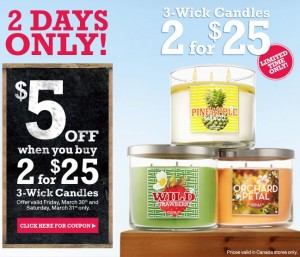 I love buying candles for the house, because when they are lit they create a fantastic aroma and atmosphere. Whether it be a fruity scent in the kitchen to remind you of spring or a stress relief candle in the bathroom for a hard day, there really is nothing like it!
Right now stop by Bath & Body Works and get 2 3-wick candles for $25! Also, today and tomorrow only, print this coupon and save $5 on top of that! So that's two 3-wick candles for $20 when they are regular $19.50 each! What a deal!
So now the question remains which scents am I going to pick?
Cheers,
Alicia
Print Your Bath & Body Works Coupon