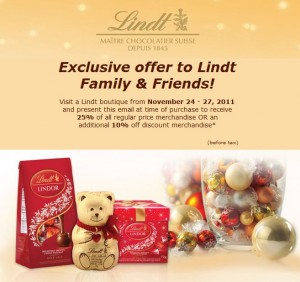 Lindt chocolate is something that a lot of kids look forward to every holiday. Whether they steal your chocolate from your Swiss Chalet festive special or they are waiting for that specific relative to come over and visit so they can get that Santa in gold foil, you really can't go wrong with Lindt chocolate over the holidays!
Visit the Lindt boutique from November 24-27 with this coupon and receive 25% off all regular priced merchandise OR an additional 10% off discounted merchandise!
What a great way to get some of that holiday shopping out of the way!
Cheers,
Alicia