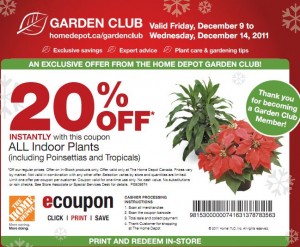 So I am starting to get my Christmas decorations out of the basement a little bit at a time, and the kids just love to help, but I really have to kick it into full gear this weekend!
I was going to get started with a quick trip out to Home Depot to get a Poinsettia, so when I found this coupon, I thought I would share it with my fellow parents!
Print this coupon and save 20% off off ALL indoor plants at Home Depot!
Isn't saving grand!
This coupon expires on December 14.
Cheers,
Alicia