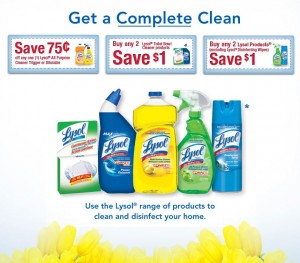 Is it bad that I am looking forward to spring cleaning? Maybe it is because I will be able to open the windows and doors and not get a gust of snow into my house.
Now you can get ready for spring cleaning with these great coupons from Lysol!
Save $1.00 when you buy ANY two Lysol products (excluding Lysol Disinfecting Wipes), Save a $1.00 when you buy two Lysol Toilet Bowl Cleaner products, and save $0.75 off ANY Lysol All Purpose Cleaner Trigger or Dilutable.
After it's all done, it will be great to sit down and enjoy how clean your home is!
Cheers,
Alicia