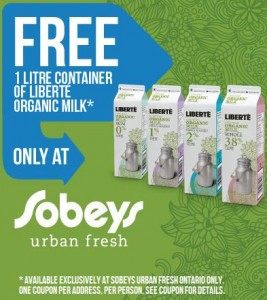 You can never have enough milk in the house when you are raising little ones. So when I can get it free, it's a good day!
I have never tried organic milk before, but this freebie from Liberté and Sobeys is giving us the chance to try it before buying it!
Request a coupon to get a free 1 litre container of Liberté Organic Milk redeemable at Sobeys! Just like Liberté Canada on Facebook to get your coupon mailed to you!
Note: There are less than 1000 coupons remaining so don't delay on this one!
Cheers,
Alicia