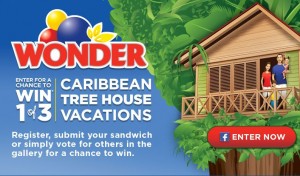 What a simply delicious contest! Wonder Bread Canada is hosting a Caribbean Tree House Vacation contest, you can enter to win 1 of 3 getaways to sunny Jamaica.
Registering gets you one entry, submitting a Wonder Bread sandwich photo gets you 10 entries, and voting in the sandwich gallery gets you one entry per day!
You can get more entries if you enter UPC codes from Wonder Bread products, up to five per week.
Here are some to get you started:
063400012271
063400140929
064947130770
064947130213
064947140014
Contest Closes on March 5.
Cheers,
Alicia