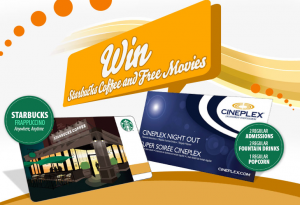 Are you looking for a way to cool down this summer? How about enjoying a Starbucks Frappucino? Or maybe it's a rainy Sunday and you want to hit the movies? Cineplex has a contest that's perfect for whatever weather summer throws as us!
Enter now for the chance to win 1 of 10 $500 Starbucks gift cards or 1 of 50 Cineplex Night Out passes.
I love going to Stars and Stroller movies with my little ones and getting Starbucks drinks (decaffeinated of course!). Imagine how much fun you would have this summer!
This contest closes on July 31st.
Cheers,
Alicia