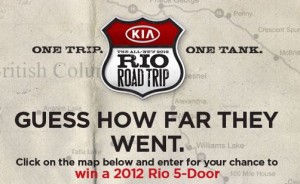 Back and forth from hockey practice, gymnastics, piano lessons, you do a lot of driving as a parent! That is why how far you can get on a tank of gas can really make a difference!
Kia sent a couple of people on a road trip in a 2012 Kia Rio 5-Door with only one tank of gas. Guess how far they made it and fill out a ballot to win your very own brand new 2012 Kia Rio 5-Door.
Just "Like" Kia Canada on Facebook to get started!
Cheers,
Alicia