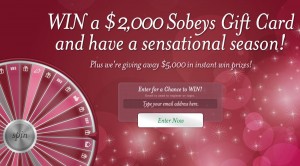 Christmas is quickly approaching and Sobeys knows that having those family get together's can get pretty pricey, especially when you are feeding those six cousins who seem to eat more in one meal than you do in an entire day.
Ease a little of the grocery shopping pain thanks to Sobeys and their contest where they are giving away a $2,000 gift card. And you don't have to worry about not winning the first prize because there are also great secondary prizes that add up to $5,000!
Now you really have to consider whether it really is easier to have people over than to bundle the kids up and go on a road trip.
Cheers,
Alicia