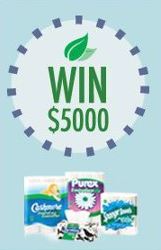 Did you know the energy from one recycled aluminum can can power your TV for 3 hours?
EnviroCare wants you to test your knowledge on their Facebook page with a quick 10 question quiz. I think you will be surprised by some of the answers.
After you finish the quiz, no matter what your score, you can fill out an entry form to win $5,000 cash!
Now that would be a wonderful prize to start off 2012!
Just "Like" EnviroCare on Facebook to get started.
This Contest Expires on December 23.
Cheers,
Alicia