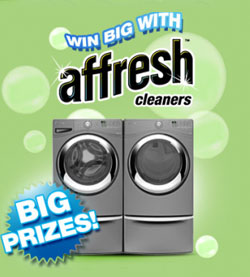 Dishwashers and washing machines are appliances that we have in our homes to help clean our belongings. But sometimes these machines require a cleaning too!
Check out the new line of products by Affresh which keep your appliances looking and working as good as the day you bought them.
Register on Facebook with Whirlpool and Affresh for the chance to win the grand prize of a Duet laundry pair!
This Contest Closes on May 31.
Win Whirlpool Laundry Machines