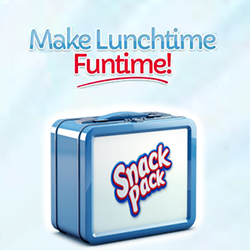 When I pack my son's lunch, I like to add fun snacks into his lunch. So cheese stringers and animal crackers are some of his favourites!
Snack Pack wants your tips on how you make your child's packed lunch fun and they are giving away great weekly prizes.
Weekly prizes include a $100 prize pack and there is also a grand prize up for grabs that could be worth up to $5,000!
How do you make Lunchtime Funtime?
This Contest Closes on February 12.
Cheers,
Alicia