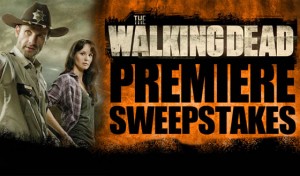 On Sundays the kids would always get put down early so my husband and I could sit back and watch the new episode of The Walking Dead!
There were so many twists and turns in Season 2, that I can't wait to see what Season 3 has in store!
Thank goodness for the PVR so we didn't have to miss anything every time we had to change a dirty diaper.
AMC and The Walking Dead are giving away a fantastic trip to LA to see the premiere of Season 3 of The Walking Dead!
Watching the premiere with no interruptions in LA sounds amazing!
Cheers,
Alicia