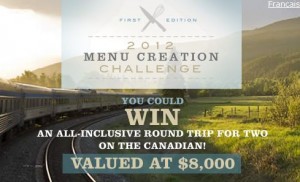 Imagine starting your journey in the the metropolis of Toronto and being able to walk along the beaches of the West Coast just 4 days later. The Canadian takes you from Toronto to Vancouver with cities such as Winnipeg, Edmonton and Jasper along the way, and you could win a trip for two courtesy of VIA Rail!
Just "Like" VIA Rail Canada on Facebook and select your favourite featured recipes, and fill out a ballot for your chance to win!
I have never been to the West Coast, so not only do I like the sounds of this trip but I like the sound of the Scallop and truffle goat cheese Sacchetti also! 😉
This Contest Closes on March 28.
Cheers,
Alicia