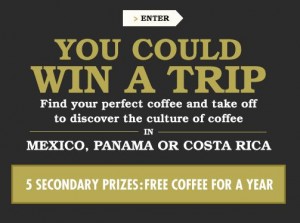 Are you Mellow & Fruity or Bold & Woodsy? Whatever your favourite coffee is Van Houtte wants to send you to discover the culture of your perfect coffee.
The winner gets to pick from a 8 day trip to Mexico in a four-star hotel, a 15 day trip to Costa Rica in a three-star hotel, or an 8 day trip in Panama in a 3-star hotel.
When you are at your destination you will get a guided tour of a coffee plantation and then you can see where your favourite coffee comes from!
There are also 5 secondary prizes of Free Coffee for a Year!
You can never go wrong with free coffee. 😉
Cheers,
Alicia