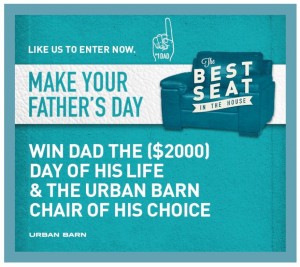 Watching my husband with our kids leaves no doubt in my mind that he is definitely a #1 Dad.
If you want to reward the number one dad in your life, Urban Barn is giving you a chance in their Father's Day contest.
Share a story and you will have a chance to win him a $2,000 day out and an Urban Barn Chair of his choice!
If my husband won, I wonder how he would spend his special day…
Cheers,
Alicia