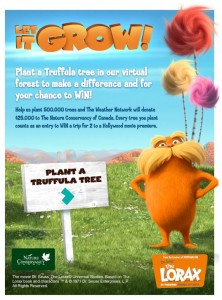 I just watched the trailer for Dr. Seuss' The Lorax and it looks really good and I think the kids will love it!
Well here is a great contest brought to you by The Weather Network that not only gives you a chance to win but helps a good cause in the process!
Plant a virtual tree and when The Weather Network reaches 500,000 trees they will donate $25,000 to The Nature Conservancy of Canada. For every tree you plant you will also get a ballot to win a trip for 2 to attend a Hollywood Movie Premiere!
You can enter every day so make sure you come back tomorrow!
This is a great chance to talk to the kids about the importance of preserving our environment.
This Contest Closes on March 6.
Cheers,
Alicia