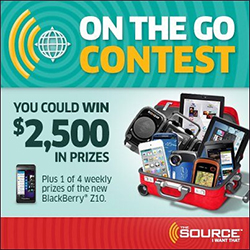 What would you do if a UFO beamed you aboard on your way to work? Your answer determines what sweet prize from The Source you receive if you win.
Play their On The Go game on Facebook to enter, and you have the chance to win $2500 worth of prizes (including everything you pick during the game, and The Source gift cards to make your prize pack worth exactly $2500).
You can also win 1 of 4 weekly Blackberry Z10 smartphones! Be sure to share on Facebook and/or Twitter, every friend who clicks through gives you a bonus ballot.
Personally, if that UFO picked me up, I would probably call my husband and tell him I will be late getting home. 😉
This Contest Closes on March 22.
Cheers,
Alicia