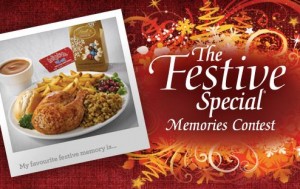 When I was a kid, we didn't go to restaurants very often because we were a single-income family and there wasn't a lot of extra money. But every month my mom would save up enough money to take us out to Swiss Chalet for dinner. This has now become a time-honoured tradition in our family. We aren't all in the same city often but when we are we make a point of going to Swiss Chalet to rekindle some of those fond memories.
Share your favourite festive special story with Swiss Chalet and you could win a Festive Feast for you and 10 friends.
Just "Like" Swiss Chalet on Facebook to share you memories and you will have a chance to win every day!
What a great way to share the holidays with the people you love the most, after all- isn't that what the holidays are really about?
Cheers,
Alicia