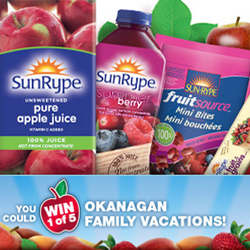 SunRype is sending 5 lucky families on a trip to Okanagan in beautiful British Columbia. Enjoy the sights and sounds of one of Canada's beautiful regions.
For many of us, getting the opportunity to explore another part of our great country is a dream come true. What an opportunity this would be!
The contest expires on Dec 31st.
Best of Luck!
Annette ❀
Win a Canadian Family Adventure HERE